If you want to transform a space in your home or office into a professional recording or post production studio, a spectacular home theater, or if you are a contractor, architect, interior designer or other professional seeking acoustic design and consulting services for your projects, we can accommodate your needs.
One advantage of hiring a professional acoustic designer is that you get a level of assurance in with a design that performs as expected and the commonly made errors that cost you time and money are avoided - often saving you more money than the design fees. Having a professional design may help you to obtain the financing for your construction phase by providing high-quality presentations, such as line art or a 3D rendering and to show prospective investors documentation which streamline your review and approval processes.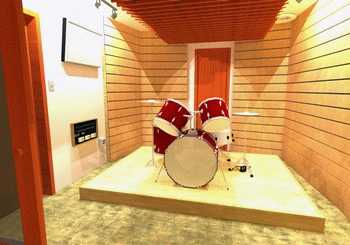 Our design process consists of design development - getting all your requirements and site details organized - then we'll go through a number of preliminary design ideas (workflow, aesthetics, and acoustic perspective) until we find the one that works. Lastly, we create the final documentation which also includes a material list.
The output of the design project is a set of high-quality drawings, specifications, construction process guideline, a 3D model, as well as consulting time (which can be used on-site or via Internet, telephone, webcam/laptap, etc). You can then take those documents to an investor, licensed architect, and/or building officials for review and approvals, and to obtain any necessary permits.



We use a standard designers contract (AIGA) as the basis for our contracts so legal review time is short and easy. The design process can usually be completed in a short time for small projects such as a home studio or theater, and acoustic treatments for a small room or office. Contact us today and let's get started!